We love our clients so much.
It's nice to know the feeling is mutual. 
---
"Hannele was great! She spelled out what to bring and what to expect for humans and dogs involved in the photo shoot. She was patient and kind with the dogs. I have some wonderful pictures from our shoot that will be going up on the walls shortly!" ~ Sarah + Kell
"I wasn't sure what to expect when we went for our photo session, I've never done anything like that before. But Hannele made all of us, dog included, comfortable so fast. The whole experience felt like a really fun date instead of a strange experience. The photos turned out so great. I love how they captured our lives as they are right now." ~Becky, Sam and Hank
"My fiancée and I, and our dog Charlie, had the pleasure of a session with Hannele this spring. The experience was terrific from start to finish. Hannele tailored the session to ensure that it reflected how we typically spend time with Charlie—long walks through different parts of DC.
The session itself was a ton of fun, and Hannele's ability to focus his energy was amazing. The photographs themselves are equally as great. Hannele captured different aspects of Charlie's personality, and our relationship with him, in each one. The framed print that we ordered is already hanging on our wall, and we can't stop flipping through the album." ~Mickey, Lindsey and Charlie
"Had so much fun doing a photo shoot with my pup and Hannele! And was so impressed with the photographs following the shoot and the quality of products, options, and recommendations. Hannele makes dogs and humans comfortable throughout the entire shoot, is organized, professional, prepared, and incredibly talented. She knows how to capture your bond with your dog and your dog's personality, and work in a variety of settings. Such a pleasure; I will definitely book Hannele again in the future!" ~Alex + Sienna
"Hannele did a fantastic job capturing photos of me and my dog, Darwin, during a lifestyle shoot. She spent so much time with us and went out of her way to make sure Darwin was relaxed and having fun during the session. She was also so much fun to work with, knew exactly how to get Darwin's attention for the camera in a natural way, and the photos were stunning. Highly recommend!" ~Danielle + Darwin
"We have two senior dogs that Hannele did an amazing job of capturing their individual personalities. It was sprinkling out, one dog decided to play in some mud and the other did not like to sit still. We are so thankful that she took the time and used all of her "working with animals tricks" to get the shots she did. We have wonderful photos of them that we will treasure, always!" ~Kristen 
"We had a lovely photo shoot with Hannele last summer. Both dogs and humans had a fun time and the photos came out great! We've also had wonderful photos from several Mini studio sessions over the years. Highly recommended!" ~Kevin + Jess
"Hannele was awesome to work with! We love our photos so much. She really takes the time to capture each of the dogs special personalities. We had a great time playing with our pups and have portraits we will treasure for years to come." ~ Erynn
"My dog and I were fortunate enough to work with Hannele last year when she photographed him for her project "The Office Dogs of Capitol Hill." My dog has been photographed by a handful of professional photographers and I can easily say Hannele was by far the best. As one can imagine, dogs can be difficult to photograph, especially my Sully, but Hannele was somehow able to get him to focus and had all sorts of tricks to grab his attention for the perfect shot. The prints are hanging in our home and are absolutely beautiful. If your dog is part of your family I can not recommend Hannele's work enough." ~Anna
Hannele was such a pleasure to work with! She is incredibly talented and her photos are beautiful. She's calm, easygoing, and it's obvious she loves all of the dogs she works with. Our dog Riley was having a diva moment and decided the camera was a little too new and scary. Hannele immediately put us and Riley at ease, letting him sniff the camera, and even switched venues to go outside where Riley was much more comfortable. We wanted photos that captured our dog's "essence" and we absolutely got that and more. After our photo session, we scheduled a follow up to look at each photo and choose the ones we loved. Working with Hannele was a personal experience for both my husband and I, and Riley, and we would absolutely do it again! ~ Elizabeth
We participated in a documentary-style photoshoot with Hannele and our dog, Kylo. The pictures are amazing! Hannele spent a whole morning with us capturing Kylo's personality in all of its forms; the shots she produced—both in our tiny DC apartment and outdoors in Meridian Hill Park—are now some of our most treasured shots of our little family. Highly recommend working with Hannele! ~Melissa
"I reached out to Hannele to help coordinate a surprise engagement with my (now) fiance and our dog (Revere) in September. She worked with us to plan locations for the shoot and discussed accommodations for Revere who tends to get a bit nervous and is epileptic. Meanwhile behind the scenes, Hannele and I planned when and where I would propose. Hannele has a gift not only with a camera, but with dogs as well! Revere LOVED Hannele (and her treats) and showed some amazing personality that came out because of his comfort with her. When the time to propose came, Hannele realized we should adjust our location and expertly and subtlety moved us to the perfect spot. She captured everything about the day and we could not be more happy with all of our photos. Hannele will even come to your home to discuss printing options and designs for your home. Hannele's personal touch coupled with her high end photography expertise made for an outstanding experience. If you want to capture personalized memories with your dog that will last forever - there is nowhere else you should look! ~ Kyle
"I recently visited NYC with my pup Izzy and wanted to get some photos with her since she's a senior pup and I want to document some of our trips and memories. Hannele was in the city for another project, and had time for a session with us, and I'm so glad because the photos are AMAZING. Hannele took so much time with us and captured real moments as we walked along the waterfront. We got a variety of different locations and shot selections, and I cannot tell you how happy I am with the photos! Thank you so much Hannele!" ~ Amber
Honestly, I'm not sure I could ever say enough good about Hannele if I tried. We brought our timid rescue pup in for a recent mini photo session, and Hannele was so great with her (and us) throughout the entire process. She is calm, flexible, understands and truly works with the dogs, and ensures that everyone leaves happy. The photos she was able to capture of Annabelle summed up her personality in the best possible way. I would trust Hannele with capturing precious moments between me and my furry friends in the future, and recommend her without hesitation to anyone looking to preserve their dog and their legacy through photography. ~Kelsey
 "My dog Trip is my service dog and we are very, very close. I get very anxious meeting new people in new surroundings and rely heavily on Trip. Hannele has such patience and a calming effect on her subjects, I was actually able to relax and the special bond between Trip and I was captured in the photos. I have never had a relationship with a dog like I do with Trip and now I will never forget it. Our photos are displayed around the house and I had some note cards made with the digital photo I ordered. I am grateful for her high caliber of creativity, professionalism, and expertise." ~ Hilary
"I had been wanting a photographer to capture the sweet, unique personalities of my dogs… but when my beloved Sam was diagnosed with cancer, it became much more important and urgent. Sam had just completed treatment before the shoot and was so tired. Hannele was so patient and kind with him and he instantly loved her. She took her time to get the best shots and give Sam the breaks he needed. Looking at her beautiful photos of Sam, no one would ever suspect he wasn't feeling his best. Hannele is an extremely talented artist, and a kind-hearted human being, who has a gift for capturing the true spirit of dogs. Sam's photographs are stunning and I will treasure them always." ~Christi 
"I wanted a photographer who could capture Quinn's proud, intense spirit in a way that I hadn't been able to do in my own amateur photos, especially outdoors where distractions abound. Hannele has such a gift for photography in natural settings and delivered glorious, vibrant images of my dog. She is exceedingly patient and unrushed with her canine clients. Happily, Hannele is just as patient with humans and guided the selection of the location and lighting that would produce the best results. Hannele's work is stunning, and I have been very proud to display these images. It was such a pleasure working with someone who finds so much joy in her craft!" ~Tara
"When I first got my little puppy Jack, I knew right off that I wanted some professional photographs of his puppy days and I knew just who to contact! After several emails with Hannele, where she answered all my questions and offered suggestions on the shoot, we met up for the session. She immediately put me at ease and starting photographing the dog. We walked all over the park, she was patient with my puppy, got down on the ground and took photos that I didn't even believe were possible! When I got the proofs, it was very emotional as she had truly captured the essence of my puppy. His special little smile and the way he tilts his head was apparent in every shot. She is comfortable around dogs and not afraid to get dirty. I will be looking forward to working with Hannele again. I couldn't have been more pleased with her work!" Cathy
"Hannele is a wildly talented photographer and a consummate professional. Not only does she produce beautiful images, she also has a particular talent for capturing an animal's distinctive personality and spirit in her work. In addition to this, she is just a wonderful person to work with - having seen her on the job, I can attest to her skill, patience and professionalism in dealing with all sorts of subjects. I've been fortunate enough to work with her on multiple occasions (as she generously donates her talents to animal rescue efforts) and every one of them has been absolutely delightful. I couldn't recommend anyone more highly, both for the experience and for the truly gorgeous results." ~Asrah
"Knowing Hannele professionally for several years, I was familiar with her natural talent but wasn't sure what she would get out of my three wild pups. On a hot summer day at a local park full of distractions, she used her patience, unique eye, and tasty duck treats to create some wonderful shots that truly capture the distinct personalities of our furry family members. The photos will help me to always remember them as they are now - young and nimble and happy. I would recommend her to anyone looking for honest photography that captures everyday life through a refined lens." ~ Lia
"Hannele did a wonderful job of capturing the true essence of Alfred, my beagle/cattle dog rescue, and Boots and Tess, my 13- and 11-year old cats. Cats are not the easiest subjects to capture on film, but Hannele's patience and talent (and some catnip!) resulted in a wonderful portfolio, which I will treasure for many years to come. I also framed some of the Hannele's wonderful photos from this portfolio as a gift for my parents' 40th anniversary, and they couldn't have been happier. The fact that her photography is now hanging in homes around the world speaks volumes for Hannele's talent and creativity." ~ Deb 
"Hannele is awesome! She's super friendly, *loves* dogs, and knew exactly how to get our pup to behave - and she was very patient when our pup got too excited! Would definitely recommend her for anyone looking for great photos of your dog. Ordering prints after the session was really easy, they arrived quickly (and with a cool gift on the side, too!) and look great in our office / apartment. Can't recommend Hannele enough!!" ~Chris
"I recently had all 3 of my very quirky and energetic senior dogs photographed by Hannele for a fundraiser for City Dogs Rescue in DC. Aside from the fact that she generously donated her time and skills to raise money for the rescue, she was incredibly kind, patient, and professional when photographing each of them. She took such amazing photos of them, capturing their exact personalities. She had all sorts of tricks up her sleeve to get even my most ADHD pup to look at the camera. I am so so in love with the photos we received and have recommended her services to every and anyone who will listen. Truly beautiful work and a kind and wonderful human. Thank you Hannele!" ~Beth
"Hannele is a tremendously talented photographer and did a lovely job photographing my two tiny pups at a recent sitting. My dogs are not known for their calm demeanor but Hannele was able to get some great pics of both of them in a very short time. I appreciate the photojournalist quality of her work, and she does lovely portraits as well. I can't say enough good things about her both professionally and personally; she is a very nice person and generously gives of her time to support a local dog rescue organization. Don't hesitate to have her photograph you and your pets...you will love the results!" ~Stephanie 
"On Christmas, my four adult children surprised me with a gift card for a photo shoot with my two best friends ages 10 and 13 (George and Sallie). The shoot captured my two pups' personalities (and looks of course). My heart swelled when I saw the portfolio. I was especially amazed at the ones she was able to get with my Aussie since she is a very busy and fidgety dog! Hannele is truly amazing. She is a dog whisperer. She has found her niche in photographing pets. It was a fun and wonderful afternoon. This Christmas I surprised my four children with framed pictures of the dogs they grew up with. They were thrilled since these are the family dogs of their childhood memories. Hannele captured those memories!" ~ Paula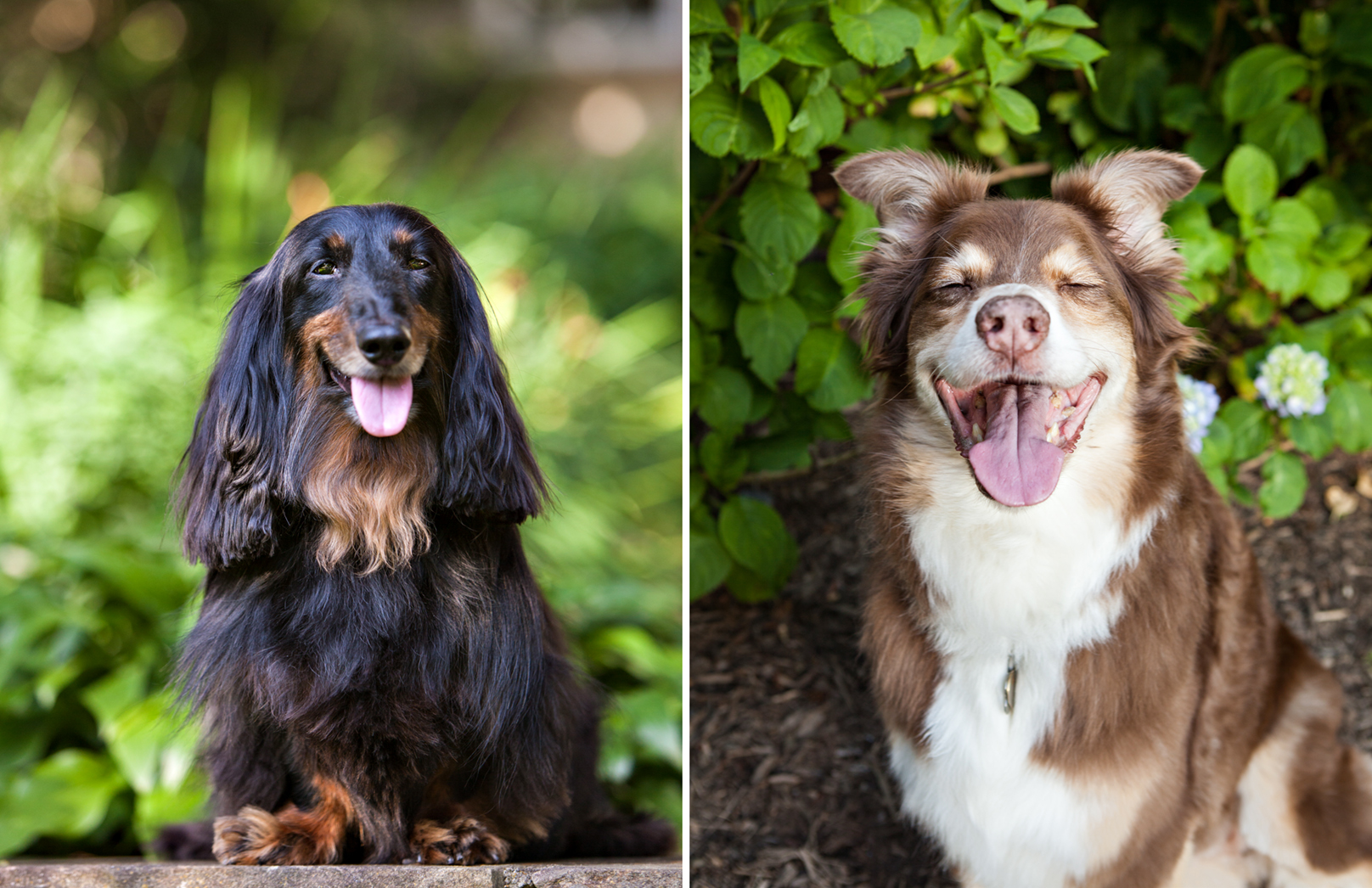 "Hannele has demonstrated a commitment to animal welfare through her work with City Dogs Rescue. It is through this commitment that she can determine the unique and wonderful personality of each dog she photographs, and as a result, her photos always tell unique and wonderful stories. The dogs she has photographed have found loving homes thanks to her goodwill, patience and strong photography skills." ~Padmini, City Dogs Rescue Photography Coordinator