Curated Product Line
My product line is based on my firmly held belief that all artwork should look and feel amazing, last a lifetime and have a low carbon footprint. 
I offer a variety of options for your finished artwork—traditional framed fine art prints, handmade albums and digital files. Learn more through the FAQ below.
How are your prints made? 
Our prints are made in house on fine art papers using archival pigment-based inks. These fine art prints are signed and dated on the back and are sprayed with an invisible coating for UV protection. Hannele is a master printmaker and has years of experience making prints for fine art exhibitions and collectors worldwide.  
Prints are available in small, matted sizes or as a wall display finished with acid-free hardwood framing. 
What options do you have for framing prints?
Our photographs are available matted + framed. The frames are made out of hardwood in a variety of color options with white 4-ply or 8-ply mats. All frames are assembled using acid-free materials and include hanging hardware and instructions.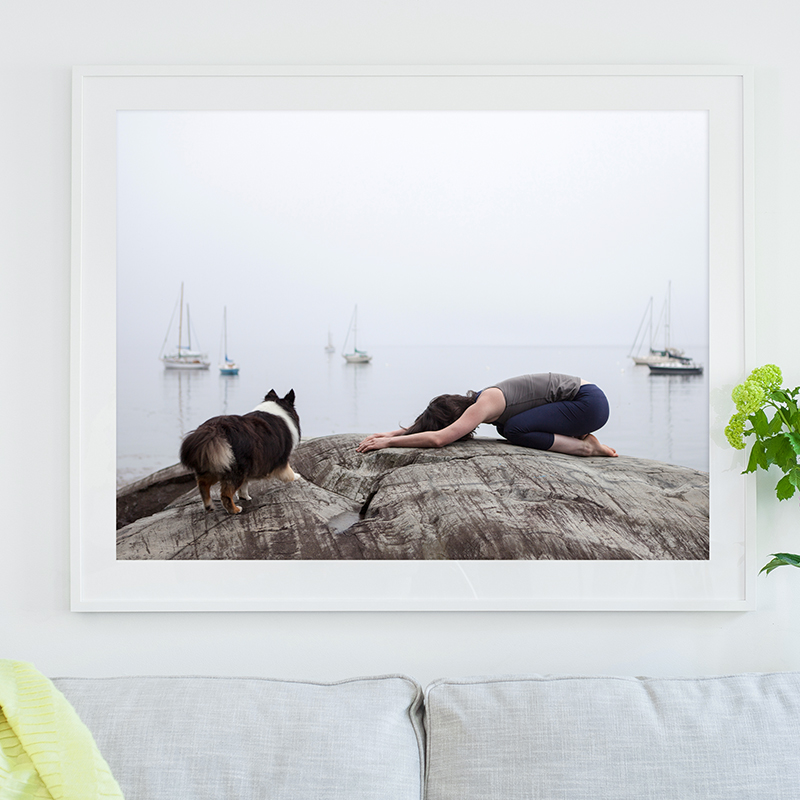 I'm interested in an Album. What do you offer and how do I order one?
Albums are a great way to keep all of your favorite images in one place. We have three options to choose from with a variety of cover materials and styles.  
All albums are designed in house and require your approval before being sent off to our printing partners.
MINI ALBUM: Perfect for your purse. This 6x6 album includes 10 images and your choice of eco-friendly fabric cover materials.   
FINE ART ALBUM: A classic 8x8 album featuring 20 of your favorite images. This album is available with your choice of eco-friendly fabrics or thick saddle leathers. Includes 3 Printable Digital Files of your choice. 

SIGNATURE ALBUM: An 8x8 album featuring all of your session images. This album is available with your choice of eco-friendly fabrics or thick saddle leathers. Includes 3 Printable Digital Files of your choice. 
I'm looking for something for my office or a gift for a family member. What would work well for that?
Of course! Here are some get desktop or gift ideas:
Wooden Desk Block: Luster photographic print mounted to an eco-friendly bamboo or walnut block. Available in 5x5 or 4x6 sizes.
Fine Art Folio Box: Handcrafted presentation box w/ five 5x7 matted luster prints. Includes choice of fabric or leather cover materials and personalized embossing.
Small Matted Prints: Any size up to 8x10, matted with acid-free 8-ply mats. These are perfect for the frames you already have. Available in sets of 3 so they are great to use for gifts. 
Do you offer printable digital files?
Yes, we offer high resolution digital files. You can purchase files in packs of 5, 10 or the full session for printing yourself.
The "Full Session" option includes all of the images on a formatted USB Drive, a full set of 4x6 prints and a custom wooden box. 
Files are for personal use, no editorial or commercial use permitted. 
I'm interested in holiday cards. What do you offer? 
We are not offering greeting cards at this time. Instead, you can order a high resolution digital file and use any online retailer.
Do you offer any packages or discounts?
Yes, we offer "Build Your Own Collection" option:
Order an 8x8 Album or Wall Display 16x24 or larger, add any 2 products and take 20% off your entire order. Please contact us to take advantage of this option.   
How do I access and use my Online Proofing Gallery?
Click the secure link provided in your email. Each gallery opens to a grid of thumbnails. Click on the first thumbnail to view at full size. You can navigate through the gallery by clicking the arrows that appear on either side of the full sized image.
I want to share some of the images on social media. How do I do that?
When viewing the images at full size, click the button "Low-Res File" and a web sized, watermarked image will automatically be downloaded to your computer.  
When sharing the images on social media, please keep the watermark intact if possible. If posting on Instagram, tag me :) @adogphotographer
Note: Low-res files are for web use only.
How do I order products through my Online Gallery?
After our Ordering Appointment, I will activate the purchase function on your gallery. That way you can order items at your leisure or share with friends and family. 
Click on the image you'd like and select the "$" option – on the upper left corner when using a desktop, on the upper right on mobile devices. A pop-up window will open with the available products. Choose your options and add to cart. 
What forms of payment do you accept?
We currently accept all major credit cards, cash or checks. Payment plans are also available.
Once I make my order, when should I expect to receive my print?
Print and product orders take an estimated 4-6 weeks to arrive. Book and Album orders take a 4-6 weeks once design has been approved. A tracking number will be sent when the order ships. We can expedite orders, just let us know when you need it and we'll do our best to get it to you. 
How do I care for my photographs?
In order to keep your photographs looking great for years to come we recommend framing with archival materials and keeping them out of direct sunlight. For more in depth information about caring for your family archives, visit the National Archives preservation page.