Lifestyle Pet Photography
I get it. You love your dog more than you ever imagined.

The day you brought them home changed your life for the better — despite the chewed up shoes, emergency vet visits and occasional pee on the floor. They throw a party for you when you come home and demand you fulfill your daily steps but most of all, they love you unconditionally. 

Dogs are simply THE BEST. Cats, we love you too.
My approach to pet photography builds on this connection. It's natural and authentic rather than overly posed and perfect. I aim to capture moments of love and companionship alongside a healthy dose of dog-induced chaos. 

How does it work?
For your dog, the experience is simply a few hours of doing all of their favorite things. For you, it's a fun way to take a deep breath and reconnect with what truly matters.
We always photograph in a relaxed, safe, natural setting with plenty of treats, toys and time. We meet at one of my preferred locations in the morning or evening and simply play.  
After our session, I will edit the images down to 30-40 selects and make a set of proof prints. Then we'll gather together to view the images, look through product samples and order your artwork.
Worried your dog will not behave? Don't—I love the troublemakers. Put your concerns at ease here or reach out with questions. When working with dogs, no question is too silly!
What's the Investment?
To reserve your session, you will pay a reservation retainer of $500. This non-refundable retainer will become a product credit to use toward your finished artwork.  To view the full artwork pricing menu, please send us a note.

Other than your product order, the only additional fee would be for a photography permit if the location you would like to photograph in requires one. 
Ready to play? 
Send us a note  |  Schedule a chat  |  Book your session
COVID-19 SAFETY: We understand the challenges faced while working during the pandemic and are taking everyone's health and safety seriously. Please read our plan before booking a session.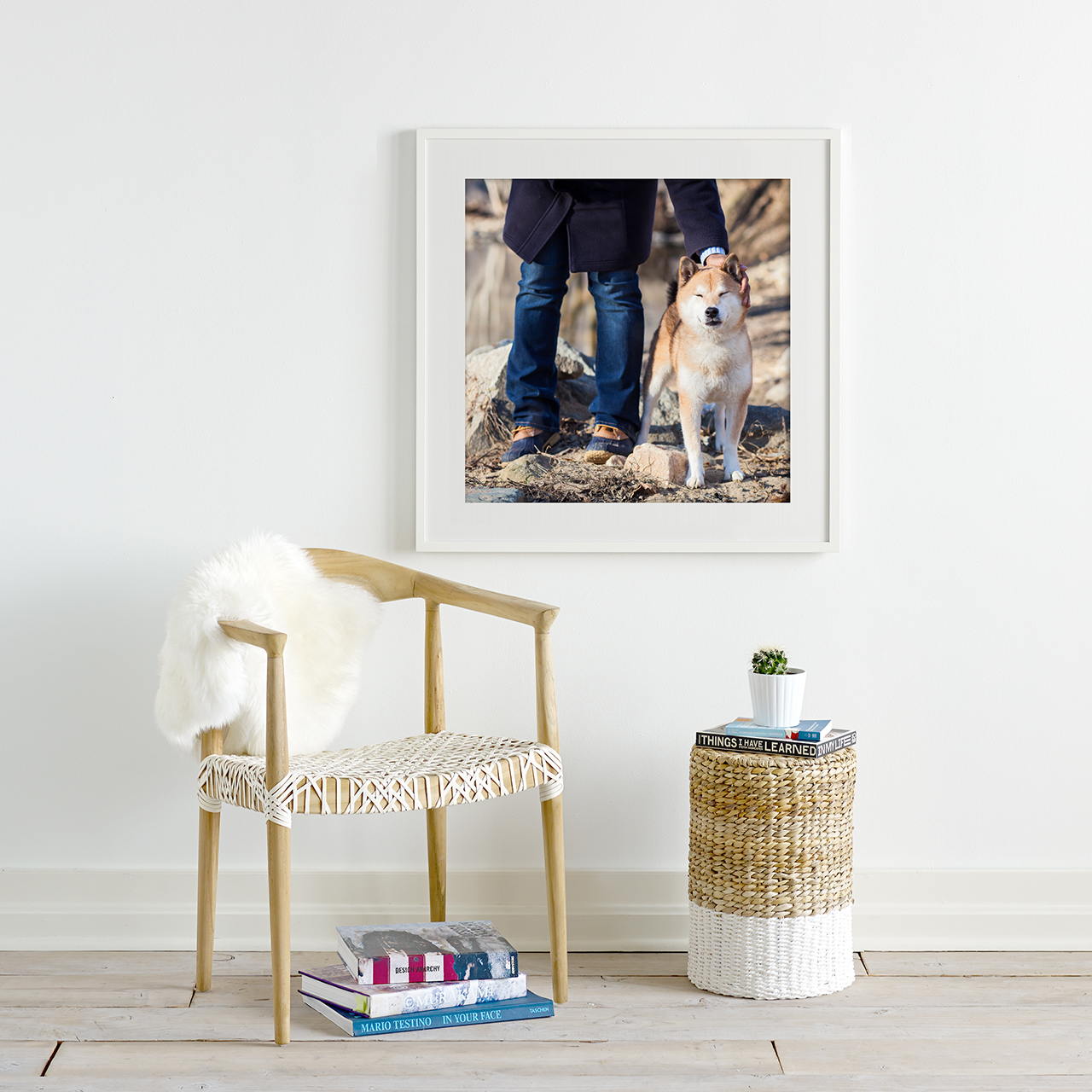 My product line is built on my foundation in the fine arts. After 15 years of exhibiting for art galleries worldwide, I wanted to bring that same level of quality to my pet photography clients. One way I do this is by personally making and signing all fine art prints.

For the products I have to outsource, I've ensured my vendors share my passion for finely crafted, environmentally sustainable artwork that will last a lifetime. 
Artwork Collections

You don't fit in a box so neither should your artwork order.
I do not offer specific collections. Instead, you are welcome to build your own collection by meeting minimum criteria or you can order exactly what you want a la carte. You do you.
Contact me to view current product pricing and Build Your Own Collection details.
Wall Displays
Gallery-Quality displays for your home.
Our Fine Art Prints are produced in-house on premium watercolor papers and archival inks. They are signed and dated before being sent to our framer for finishing. 
Framing options include acid-free white mats or float mounts and choice of modern hardwoods. 
Handcrafted Albums
Designed to tell your story, made to spruce up that coffee table.
Wrapped in eco-friendly fabrics or rustic saddle leathers, our line of lay-flat albums are the perfect way to keep all of your images in one beautiful place.
All albums are designed in-house then handcrafted by the best American artisans.
 Available in three sizes and image counts.
Desktop Decor
Custom art for dog-friendly work + personal spaces.
Custom Folio Box – Handcrafted presentation box w/ five 5x7 matted luster prints. Includes choice of fabric or leather cover materials and personalized embossing.  

Wooden Desk Block – Luster photographic print mounted to an eco-friendly bamboo or walnut block. Available in 5x5 or 4x6 sizes. 
Small Art Prints
Fill the frames you have on hand.
These are the same Fine Art Prints as our  Wall Displays, just smaller in size.   Available loose or with 8-ply acid-free mats. Any size up to 8x10.
Printable Digital Files
Print to your heart's content.
Order in packs of 5, 10 or get them all. Full session file orders include a set of 4x6 luster prints and personalized USB drive all wrapped up in a custom wooden box.
For the Instagramer's...
Are you looking to post to your pet's Instagram feed? No problem. Social media sized, watermarked files are included for all of the images in your order. 
---