frequently asked questions: 
How do I navigate my personal web gallery?
Each gallery opens to a grid of thumbnails. Click on the first thumbnail to view at full size. You can navigate through the gallery by clicking the arrows that appear on either side of the full sized image.
I want to share some of the images on social media. How do I do that?
When viewing the images at full size, click the button "Low-Res File" and a web sized, watermarked image will automatically be downloaded to your computer.  
When sharing the images on social media, please keep the watermark intact. If posting on Instagram, tag me :) @adogphotographer
Note: Low-res files are for web use only.
How do I order products from my session?
You can place your order directly through this website. Click the "$ Buy" button to the left of the image for product descriptions, available sizes and pricing. 
For clients in the DC Metro area, I am available to schedule an in-home ordering session. This option is great for those who would like to see product samples, are unsure how to curate a wall display or are interested in having a book designed from their session. Email me to schedule.
How are your prints made? 
Our prints are made one of two ways:
For prints 8x12 and smaller, we have partnered with an incredible professional lab who works with premium photographic papers and top-notch printing technology. These photographic prints are sprayed with a luster coating to protect them from UV damage.

Prints larger than 8x12, Hannele produces in her studio on fine art papers using archival pigment-based inks. These fine art prints have a 1-2 inch white border and are signed and dated on the back. They are sprayed with an invisible coating for UV protection. Hannele is a master printmaker and has years of experience making prints for fine art exhibitions and collectors worldwide.  
What options do you have for framing prints?
Our premium photographic prints are available matted + framed or unframed. The frames are made out of wood in the following color options: white, black, natural and dark walnut with white mats. All frames are assembled using acid-free materials and come with hanging hardware.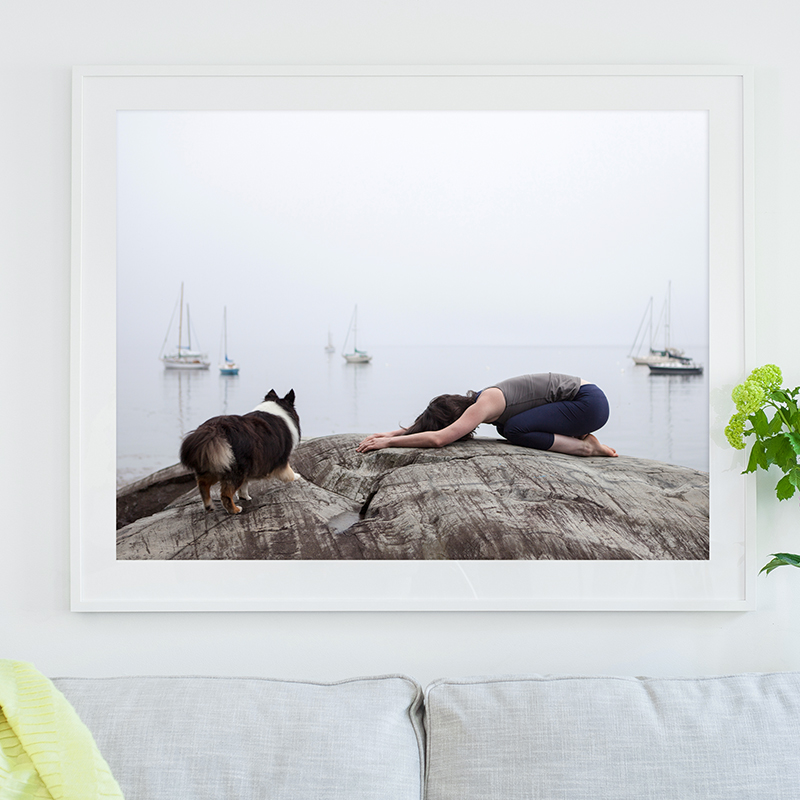 What is a Bamboo Gallery Panel?
The Bamboo Panels are our alternative to the "photo on canvas/gallery wrap" option. They are made in California with premium C-Type photographic archival papers then mounted with ph-neutral adhesives to eco-friendly bamboo panels. They are beautiful + environmentally sustainable! They give you a frameless, modern look that comes ready to hang on your wall. Just like photographic prints, it is best not to hang these in direct sunlight or in damp environments. 
I'm interested in a multi-image wall display. How should I go about that and are there any discounts available?
I highly recommend setting up an in-home design session so we can go through design options together. That way we can design the display specifically for your space. I'll even come and help install it for you. :)
If you are outside the DC metro area, send me a photo of your space and I'll mock up designs using your images. 
Yes, volume discounts are available when ordering multi-image gallery walls. Email me for details.   
I'm interested in a Coffee Table Book. How does that work?
Hardcover coffee table books are a great way to keep all of your favorite images in one place. All of our books are completely custom and made to order. They are offered in three sizes and a variety of cover materials. Each book includes 30 pages printed on high quality archival papers.  
To order: Select a size and cover option through your website's "$Buy" option (see above on how to order). We will follow up with you to go over image selection, design and cover materials. All books will be designed in house and will require your approval before going to press. Additional spreads are $50/spread and will be billed after final design approval
Please email us for more information or to schedule a meeting to view sample books.   
What are Digital Negatives?
Digital negatives are high resolution digital files. You can purchase individual files or the full session for holiday cards and printing yourself, up to 10x15.
The "Full Session" includes all of the images on a custom USB Drive. Files are for personal use, no editorial or commercial use permitted. 
I'm interested in holiday cards. What do you offer? 
We are not offering greeting cards at this time. Instead, you can order a high resolution digital file and use any online retailer – we recommend: Minted, Artifact Uprising or TinyPrints– who specialize in custom greeting cards. 
What is a "Lightbox?"
The Lightbox feature is an easy way to select & save your favorites for future reference. 
Here's how to make use of it:
Select "Add to Lightbox" when viewing the full sized image. 
To view all images you've saved to your Lightbox, click "My Lightbox" on the left menu.
*Make sure to create an account in order to save your Lightbox for future reference. The next time you visit the website, sign in and your saved Lightbox images will be available.
What forms of payment do you accept? Do you offer payment plans?
We currently accept Visa, MasterCard, American Express and Discover when you pay using PayPal. You may also pay by check during our in-home ordering session. 
Yes, payment plans are available. Contact us for details. 
Once I make my order, when should I expect to receive my print?
Print and product orders take an estimated 3-6 weeks to arrive. A tracking number will be sent when the order ships. We can expedite orders, just let us know when you need it and we'll do our best to get it to you. 
How do I care for my photographs?
In order to keep your photographs looking great for years to come we recommend framing with archival materials and keeping them out of direct sunlight. For more in depth information about caring for your family archives, visit the National Archives preservation page.